Thoughts on Tomahawk Production 1970 to 1990
Some Thoughts on Tomahawk Production 1970 to 1990
I've been looking at TOA boats with a view to getting some sort of Tomahawk Production Schedule from Marine Construction (Marcon) from 1970 to 1979 and then from Seabourne Marine (who took over after Marcon went into liquidation) from 1979 to around 1990. It is understood that 292 Tomahawks were moulded.
Basically, I've assumed the following logic:
The build completion date will be after the moulding date, and sometimes it is quite a long time after
Mould numbering and sail numbers will go up from the start of production and there could be a link between the two depending on how the moulds were numbered
Mould details and sail number details can be tricky to get hold of.  Don Baines, Malibu, writes on where to
locate the mould and build details on Malibu: The Plate was further down the side of her port locker than I had remembered – about halfway down. The grey paint dripping over the top of the plate isn't mine!  There are in fact two plates – the larger top one confirms she was Marcon built and gives her Tomahawk number as 149. Immediately below this a narrow rectangular plate gives her Hull No. as 1409.  ……  Both plates appear to be of fairly thin alloy, with the lettering raised, although the Tomahawk number has been stamped into the alloy of the main larger plate.  The mould Number was (also) cast into the hull moulding on the transom, top port side, and just below her diesel tank overflow outlet.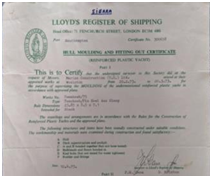 I know some people have found plates affixed in other places or loose in the bilge.  I haven't found any plates for Sierra, but have the following paperwork for her, as Tomahawk/75.  Her sail number is 2110Y, as issued by the RYA, thanks Don.  I contacted RYA to see what details they hold.  They still store the registration details for the sail number so can offer registration date and name of vessel at the time but will not give owner details (GDPR) and, but critically, don't record the original class or sail number, which would have been really useful.  Interestingly she was registered with them in January 1973, as Sierra, and given sail number 2110Y, despite not yet having been moulded at the time!  She was completed in 1974.
Anyway, from the following table and in a nutshell, I think:
The Mark 1 boats (1970 to ~1975) encompassed both white topped and grey topped Tomahawks
The Mark 2 boats (1975 to ~1978) were white topped (as were the rest) and had changes to the fore hatch, which is from a car bonnet type (with aft hinge) to a foreword hinged unit, so this would have required a minor modification to the coach roof mould, but I don't think much else changed(?)
The Mark 3 boats (1978 to ?) had the internal layout change where there is a swap of the galley from port to starboard (and the toilet in the opposite direction) and berth layout changes, from a dinette/double bed to two singles, one on each side of the boat, so some interior mould changes
The Mark 4 boat (<>1990) which have along sloping coach roof front and sloping fore hatch and also window changes so major change again to the coach roof mould, but I'm not sure what else.
In the TOA we have very few early boats, so below sail number ~30 and precious few later ones, specifically Seabourne moulded, as those we have could probably be attributed to Marcon moulded. I do appreciate this is a very limited survey, but we may have an overestimated number of Tomahawks built. I would greatly appreciate if you could confirm the mould date, mould number and sail number of your Tomahawk and confirm the hatch and layout details as discussed above. Many thanks to those who have already supplied data, but if you haven't could have a look at your Tomahawk and/or the paperwork and let me or any of the Committee, have these details we can firm up the production schedule. Also please send in copies of any Marcon or Tomahawk brochures you have, with dates, if at all possible, and we'll add them to the records on the website. Many thanks.
Roger Bayliss, Commodore, Sierra.